Essay
6 min read
Food is the nexus of relationships. Matthew Croasmun notes that food, and all created things, are most themselves when they are more than merely themselves.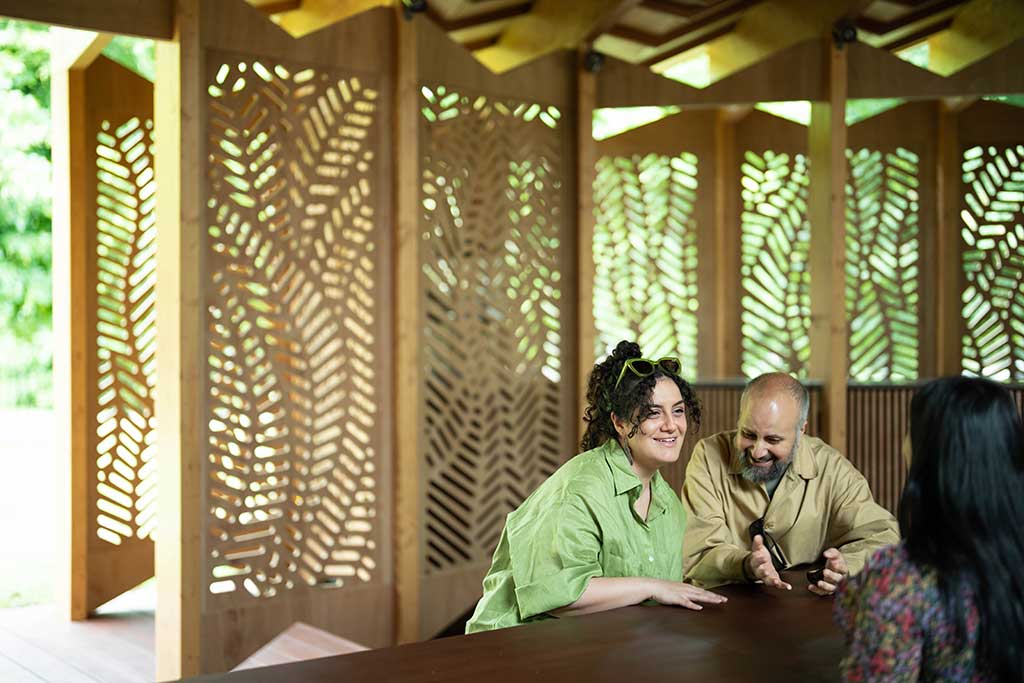 This summer's Serpentine Pavilion in Hyde Park, À table, designed by Lebanese architect Lina Ghotmeh, invites us "to the table." The extraordinary, long tables ringing the pavilion invite us to a meal and to conversation. To connect with one another and with the Earth that sustains our lives.  
Ghotmeh's invitation is an important one, if we have ears to hear. Through seeing what meals are, what they ought to be, and what they invite us to imagine, we discover what we are and what we ought to hope for.  
Meals help us understand what we are. We can sometimes rush past questions about our materiality. Attending to meals won't allow us to do that. Food, after all, is fundamental to life. We are what we eat and drink.  
Early in the biblical stories of the life of Jesus, Jesus is confronted with this fact of human life. Hungry after forty days of fasting in the desert, Satan suggests Jesus miraculously produce some food for himself out of the rocks at hand. His response, a quotation from Hebrew scripture, "the human does not live by bread alone," might at first seem like a hyper-spiritual attempt to deny our bodily dependence on food.  But I take it that Jesus isn't proposing that the human live without bread. He's asking us to take a closer look at bread to see that it is more than merely bread. What he invites us to see will yet affirm that we are profoundly interdependent within the natural world of which we are a part. Our hunger and the food that satisfies it is one of the most visceral reminders of just this fact. 
To desire a good meal is to seek to attend to the many relationships at our tables and to pursue nourishing mutuality.
Food, however, is more than merely food. Food is a nexus of relationship. The rest of the verse Jesus cites goes on to insist that food comes by the "word that comes from the mouth of the Lord." Even as we live by bread, we live by Divine words, because the bread we eat—the bread we are—comes to us as a Divine gift. In the biblical imagination, everything comes from God. In the beginning, God spoke and there was. That's true of the wheat and rye and barley or whatever else we use to make our bread, and it is true also of the human cultures and traditions through which these natural goods come to be bread.  
Bread is more than merely bread; it is a Divine gift. In fact, it turns out, that every good thing is like bread in this way: created things are most themselves when they are more than merely themselves. This is just the sort of thing the creation is. It is an interrelated, connected whole, marked by relationship within and without. Created things are most themselves in right relationship to one another and to the God who created them. As a created good, food is more than just food. 
And, of course, meals are more than just food. Meals are sites of relationship. Particularly in our globalized world, our simple tables often conspire to hide fantastically complex networks of relationship implicated upon them. These networks interweave relationships among people and places—seen and unseen.  
The people implicated at our table include those around the table; those who foraged for, grew, transported, and prepared the food; those whose cultures for generations cultivated the plants, animals, fungi, dairy products and all the rest that find their places on our table; those whose histories and cultures gave rise—through creativity, necessity, or both—to the cuisines that weave together these natural and cultivated elements; and those absent from our tables who yet hunger for food. The places implicated include the fields and wilds and rivers and seas whence the food itself comes; the lands whence the cuisines and cultures hail; and the places we occupy as we share the table.  
So, meals are more than just food. But then, meals most worthy of the name are more than just meals. Meals are not just sites of any old relationship. At their best, they are sites of nourishing mutual encounter between people, places, and the God who created them all. To desire a good meal is to seek to attend to the many relationships at our tables and to pursue nourishing mutuality. To seek the good of the wilds and streams from which our food has come—to seek a way of relating to these places such that those relationships are mutually nourishing. To seek the good of the people seen and unseen but nevertheless "present" inasmuch as they are implicated at our tables.  
In days like ours, our tables are sites of mutual encounter, but the encounter is not nourishing to all involved.
At times, a good meal in this broken world will take the form of fasting in solidarity with or materially for the sake of those who hunger for what we so readily waste. In attending to our interrelatedness with the people and the places God has created, we begin to understand what it is also to attend to our relatedness to God at the table. Each of us—human, plant, animal, field, river, sea—we become most what we are when we become more than just ourselves. We become most ourselves when we attend to our relatedness to one another, when we attend to the God who created us for mutual flourishing.  
It is in these complex webs of interrelationship that what we are begins to suggest to us who we are: we are sharers of God's home, members of God's family, citizens, as Jesus put it, of God's kingdom. The Kingdom of God is just this: all things flourishing in right relationship with one another and with God their creator. One of Jesus's favorite metaphors for the Kingdom was that of a heavenly banquet. Seated at God's table, our citizenship, our kinship, our mutual interdependence is plain. 
And yet we are not all flourishing. When I visited last year's Serpentine Pavilion, Hyde Park was bleached from drought and heat. The would-be lawns felt like deserted wastelands; it was disorienting. Such sights testify to our profound interrelatedness, though against our flourishing. On the Black Sea, wheat that may never become bread, because it is trapped by war offers an analogous testimony. Our lives are deeply intertwined; just so, we are not flourishing. In days like ours, our tables are sites of mutual encounter, but the encounter is not nourishing to all involved. 
If all Jesus offered were a vision of the table as it could be—as it should be—our reflection would have to end here. "Look at what our meals might be," we might say. "Let us make them so! Let us build the Kingdom of God." War and climate catastrophe, beware! 
But Jesus never instructed his followers to build the Kingdom. Rather, he invited them to receive it, and in so doing, participate in its coming. 
One of Jesus' most common ways of inviting people to receive the Kingdom was by inviting them to a meal. These were meals in all our ordinary senses. They were sites of relationship. Particularly as Luke, one of the four gospel writers, tells it, Jesus was constantly offering advice about who to invite to the table. He warned about which absences revealed life-denying alienation. He convened and commended gatherings of rich and poor, religious and irreligious, nevertheless gathered for nourishing mutual encounter.  
These meals are not only revolutionary social projects (though they were and can still be exactly that). In the ministry of Jesus, meals become announcements and enactments of the Kingdom of God. Meals become invitations to and demonstrations of the ultimate Home that God is making for God and God's creation to flourish together. It is this Home that Jesus invites us to inhabit with him. When we share meals that are more than mere meals, when we allow God to transform our relationships with one another and within the natural world, our meals, too, can become sites of God's transforming presence—the Home of God coming to be among mortals.  
So, when we come to the table—whether Ghotmeh's table or the table in our homes—let's be aware of the opportunity presented to us. At the table, we are invited to know bread that is more than mere bread, even as we are more than merely ourselves. At the table, we are invited into mutually nourishing encounter with one another, within the natural world, and with the God who created it all. At the table, we are invited to be at home with one another in the presence of God in whom all things are finding their Home.