Article
4 min read
From an era before selfies, Paul McCartney's cache of photos, even the out of focus ones, prompts Jamie Mulvaney to consider what perspective we need on ourselves.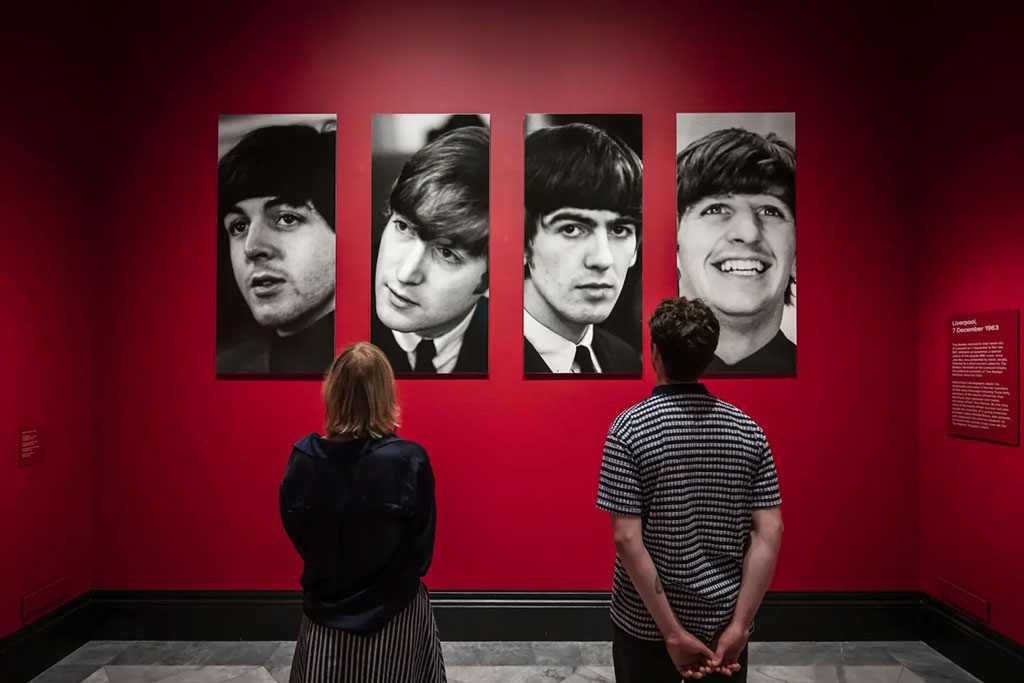 Imagine a day in the life of a Beatle. It's easy if you try. Or is it? 
Last year, the late Matthew Perry allowed us a searing insight into life with a rollicking read about his very high highs and very low lows. Yet more books have been published recently on the toxicity of fame.  Britney Spears is the subject of an autobiography and a biography. Another simply borrows the title, Toxic. John Updike wrote that 'fame is the mask that eats the face'. Baz Luhrmann last year documented Elvis Presley's destruction in his typically kaleidoscopic way. And into this media mix a recent exhibition shows a more innocent, intimate moment in the fame prototype of Beatlemania, intriguingly entitled Eyes of the Storm. 
Surely with the Beatles predating the selfie-stick and Snapchat, we'd be reliant on paparazzi. But as Sir Paul McCartney can play pretty much every musical instrument, it's not a surprise he knows how to use a camera. And so, it emerged during lockdown that he had kept 1,000 previously unseen photos from 1961-1963. 
To relaunch the beautifully remodelled National Portrait Gallery, McCartney displayed a whole cache of photos. One of the criticisms of present-day photography is that it's too easy, that we retain all sorts of out-of-focus photos on our phone.  McCartney had preserved all these, and although it's curated and edited, there's many photos that wouldn't normally be seen. 
You get the fab four goofing about, and also in quieter moments. There's young George looking shattered in the back of a car, and John concentrating. McCartney forgot that Lennon pulled this particular face, with his finger to his lip. His song 'Help!' emerged a year later. He told Playboy, 'I was fat and depressed, and I was crying out for 'help'.' They were indeed in the eye of a storm. 
We've lived with an orthodoxy that we understand ourselves through self-expression – that we ourselves are the ones to define who we are. 
And in the middle of the storm, we see the Beatles finding moments of joy. They land in New York for the Ed Sullivan Show, at the top of the charts and the top of their fame. Fans chasing them down Manhattan streets, fans balancing precariously on an airport roof, and one inexplicably holds a monkey. American optimism had been battered by JFK's assassination and the Beatles' arrival was a welcome respite. This joy became even clearer (and more vivid?) as McCartney switched to colour when they reached Miami. But before the colour, the songwriter in conversation with Stanley Tucci singled out seeing a worker he snapped while they were on the train – perhaps a mirror to his own working-class roots and family.  
But then there are also the more explicit self-reflections… A series that struck me were McCartney's self-portraits, looking in mirror, out of focus. McCartney said that his first thought was this was the National Portrait Gallery - at least they could be in focus! But then he realised they had a warmth, and a softness to them.  
Those of us who are not Beatles, or famous, also often live our lives out of focus, with blind spots, or a little dizzy from the storms around us and within us. Canadian Catholic philosopher Charles Taylor, before the selfie was invented, wrote about our self-perception in relation to the outside world, and that we are 'self-interpreting animals'.  
Since the eighteenth century we've lived with an orthodoxy that we understand ourselves through self-expression – that we ourselves are the ones to define who we are and how we relate to the world - even how we relate to ourselves. It's so much the norm, it might seem confronting to question it, but in an increasingly confusing world, this is an increasingly difficult way to understand ourselves.  Whilst many of the Beatles' songs are about perception, King David also wrote in the psalms about our need for an external perspective: 
'You have searched me, Lord, 

    and you know me. 

You know when I sit and when I rise; 

    you perceive my thoughts from afar.' 
What we each need is a perspective on ourselves from the outside that is warm, soft, but also in focus. What if there was a perspective on ourselves free from blind spots, a precision lens that fully sees and fully understands the essence of who we are, and who we might be? Someone who sees the deleted photos, and yet is completely gentle and loving in how they see us? The way we truly understand ourselves is in relation to our Creator. God shows us both what is seen and unseen. Like in these photos, God is not fazed by the contrast of light and darkness, and provides a way out of the storm: 
'Search me, God, and know my heart; 

    test me and know my anxious thoughts. 

See if there is any offensive way in me, 

    and lead me in the way everlasting.'