Review
4 min read
Victorians welcomed the angel of death, rather than fearing it. Ian Bradley explores their changing attitudes towards death. Part of the How to Die Well series.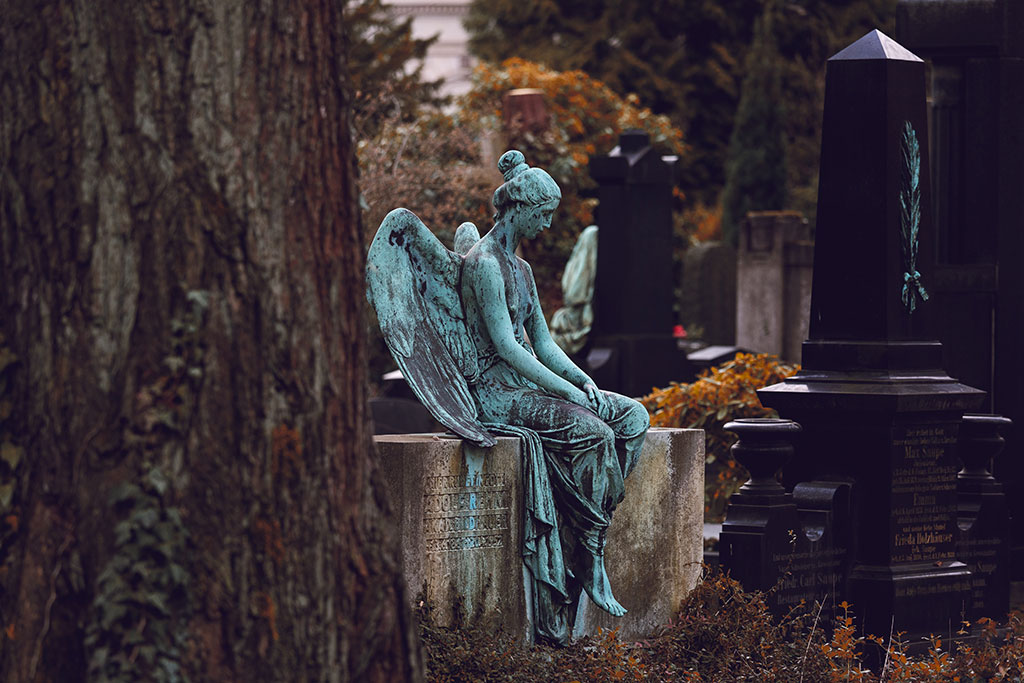 When it comes to dying well, there is much that we can learn from our Victorian forebears. Experiencing death more frequently and directly than most of us do, they were not frightened by it but regarded it rather as part of the natural order and, thanks to the pervasive influence of the Christian faith, as the gateway to eternal life.  
In his widely read epic poem, 'In Memoriam', inspired by the death of his close friend Arthur Hallam at the age of 22 and published in 1851, Alfred Tennyson posed the rhetorical question: 'How fares it with the happy dead?'. It struck a deep chord with his readers, as did his answer that they are 'the breathers of an ampler day for ever nobler ends'. 
The Victorians thought, wrote, preached, and sang about death and what follows it far more than we do today. Novels were judged by the power and pathos of their death bed scenes. Ninety hymns in the 1889 edition of Hymns Ancient and Modern deal primarily with the experience of death and dying. By contrast, there is not a single hymn on this subject in its current successor, the 2013 Ancient & Modern: Hymns and Songs for Refreshing Worship. Death and heaven featured prominently in popular poems, none more so than those by Adelaide Procter, a devout Catholic and the second most read Victorian poet after Tennyson. For her, 'the beautiful angel, Death, waiting at the portals of the skies' is to be welcomed rather than dreaded. Her verses about a 'lost chord' that an organist realises he may only hear again in heaven, set to music by Arthur Sullivan, who also had no fear of death, became the best-selling song in Britain throughout the last quarter of the nineteenth century.  
To our modern taste, such sentiments may seem maudlin and morbid. We have done our best to sweep death under the carpet and we think little about what may follow it.  
For most Victorian Christians death was something to be looked forward to rather than dreaded. Frederick William Faber, who converted from Anglicanism to Roman Catholicism, was typical in his enthusiastic evocation of its joyful and liberating character: 
O grave and pleasant cheer of death! How it softens our hearts and without pain kills the spirit of the world within our hearts! It draws us towards God, filling us with strength and banishing our fears, and sanctifying us by the pathos of its sweetness. When we are weary and hemmed in by life, close and hot and crowded, when we are in strife and self-dissatisfied, we have only to look out in our imagination over wood and hill, and sunny earth and starlit mountains, and the broad seas whose blue waters are jewelled with bright islands, and rest ourselves on the sweet thought of the diligent, ubiquitous benignity of death.  
To our modern taste, such sentiments may seem maudlin and morbid. We have done our best to sweep death under the carpet and we think little about what may follow it.  For the Victorians, by contrast, it was an ever-present reality, mostly happening at home rather than out of sight in a curtained-off hospital bed or care home, and directly affecting the young as well as the old. The average life expectancy of someone born in Britain in 1837, the year of Victoria's accession, was just 39 years, less than half the current figure of 81. Infant mortality stood at 150 per 1,000 births and actually rose through the century, reaching 160 per 1,000 births in 1899 – the current level is just over three per 1,000.   
It was in this context that Victorian clergy sought to dispel anxious fears about death and help people to die well by expounding the Christian doctrine of eternal life. There was a pastoral imperative to do so when seeking to minister to so many who were dying or grieving.  
Their focus was on the promise of heaven rather than the fear of hell. There was still a continuing adherence within the churches to the doctrine of eternal punishment for the wicked in the aftermath of a final and terrible Day of Judgment. However, the latter half of the nineteenth century saw a marked decline of belief in hell, prompted partly by the impact of the new German school of biblical criticism which challenged Biblical literalism and by moral revulsion at the idea that a basically benevolent and good God could consign people who had not led particularly bad lives to eternal torment.  
Increasing missionary endeavour and contact with those of other faiths, or of no faith, also made many Christians uneasy with the idea that a large proportion of the human race were condemned to everlasting punishment simply because they had never encountered the Christian Gospel.  
As fear of hell subsided, so hope of heaven came to occupy a much more prominent place in Victorian thought and imagination. This can be clearly seen in the language of hymns. Heaven receives over 100 explicit mentions in the seminal 1889 edition of Hymns Ancient and Modern, and there are a further 43 references to Paradise. Hell is mentioned in just 15 of the 638 hymns and only in four of those is it conceived of primarily as a place of pain and punishment. 
Hymns are, indeed, a good place to gain an insight into Victorian views of death and heaven. Two popular ones written at the very beginning of Victoria's reign set the tone for those that followed. 'I'm but a stranger here, heaven is my home' by Thomas Taylor, a Bradford Congregational minister, and 'There is a happy land, far, far away' by Edinburgh schoolmaster Andrew Young, emphasize the idea of death as a home-coming and reinforce the conviction, increasingly common among Victorian clergy, that friends and family will be reunited in heaven.  
As mortality rates rise in the wake of Covid and as a consequence of an ever-older population and death comes out of the closet, we are at last beginning to talk and think about it more. Through their poems and hymns, the Victorians can help us to be less fearful and to die well. 
Ian's new book Breathers of an Ampler Day: Victorian Views of Heaven is published by Sacristy Press.