Article
6 min read
In the third of a series on the Seven Deadly Sins, Jane Williams highlights how Greed destroys both individuals and societies.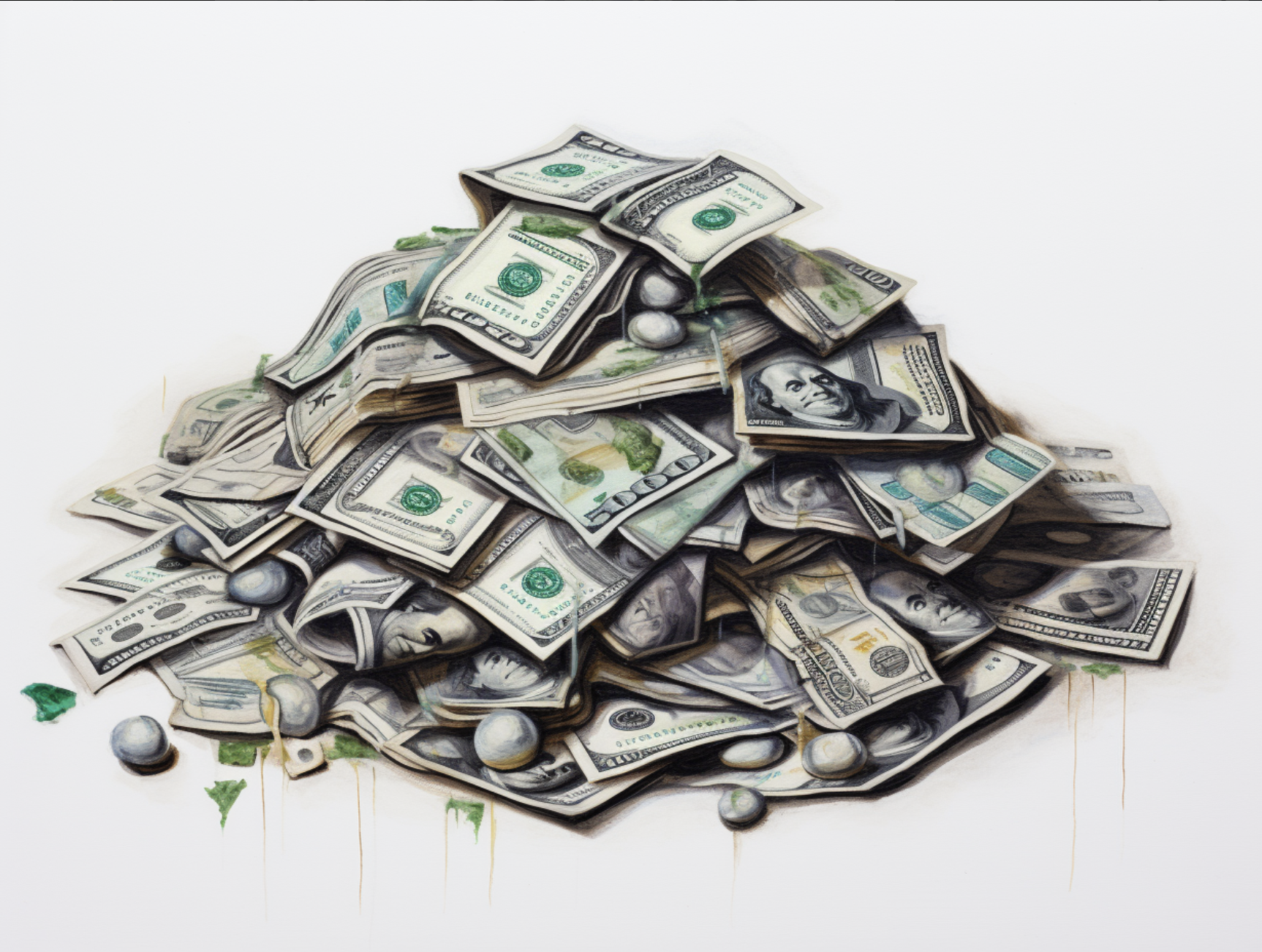 In the old Humphrey Bogart film, Key Largo, the villain, played with a vicious childishness by Edward G. Robinson, is asked by Bogie what he wants. Rocco, Robinson's character, thinks for a bit and then says that what Rocco wants is MORE!  'Will you ever have enough?', Bogie asks, and Robinson thinks about it for a moment before replying, 'I never have so far. No, I'll never have enough'. 
That is Greed, in a vivid nutshell. Rocco doesn't want anything particular, and he doesn't value anything in itself; he just has a vast, unspecific, insatiable desire for anything and everything, particularly if it belongs to someone else. 
Rapacious greed does not love what it desires; it is driven to possess; it does not value what it has. 
Greed, like all the Seven Deadly Sins, is a 'capital' or 'cardinal' sin, meaning it is a disposition from which destructive, abusive actions flow. Having this over-mastering tendency to Greed makes us act in a whole variety of ways that are damaging and abusive to others and to ourselves. Greed leads to a variety of 'sins'. Rapacious greed does not love what it desires; it is driven to possess; it does not value what it has, because while there is 'more' out there somewhere, greed must have it. It does not care what or whom it attacks or destroys: anything that stands in its way must be obliterated. It does not want to admire or use what it seeks, it merely needs to possess it, and the moment the sought after thing is achieved, all-consuming greed moves onto the next thing, always seeking 'more', always despising what it has, as not enough. 
Greed is destructive both on the personal front and also as it shapes societies. Individuals ruled by greed cannot maintain love or friendship or loyalty: their eyes are always on the next thing, always hungry for what they have not got. They leave behind them, without a backward glance, hurt and broken friends, family, colleagues, jobs. And if the fallout is clear for all the people around someone driven by greed, it is also obvious that it destroys the greedy, too.  
Overpowering greed empties even the greedy of worth; they can never be successful, because they do not have what they want – everything. 
Nothing can ever satisfy someone consumed by greed; there is no rest, no peace, no pleasure, because the world is full of things still to be grabbed at.  Jesus is quoted as having said, 'Where your treasure is, that's where your heart will be'. It's a warning to beware of what you long for, because we are so powerfully shaped by our desires. But if all Greed longs for is 'more', then, in the end, the greedy person or society has no heart at all. It is shaped only by a drive for possession, opening up a vast and echoing emptiness where an actual longed-for being or thing should live. Overpowering greed empties even the greedy of worth; they can never be successful, because they do not have what they want – everything.  
It is obvious how Greed is deadly for individuals, but it is also deadly when it becomes a motivating force for society at large. The media have recently been talking again about 'greedflation'. The theory behind the term is much debated, but the word itself is instantly memorable. Institutions that are governed primarily by the need for 'more' drive an insatiable economy, always needing more consumers, more profit, more rewards. Dissatisfaction and envy are the necessary tools of a society, an economy, of Greed. Individuals and groups that try to opt out of this out-of-control consumerism are viewed as a threat, and must be diminished, dismissed, cast out. It is dangerous in such a society ever to ask, 'Do we really need more?' That is the Emperor's New Clothes question, which must be avoided at all costs. Surveys that ask people at different income levels whether they feel that they have enough nearly always find that everyone would like just a little bit more. Everyone would like to be at the next level up of income and possessions; but if they achieve that next level, then, strangely, they find that it is actually the level above that that really want.  
Contentment lays an axe to the roots of Greed. It allows us to see what we have and value it.
The World Happiness Report, which has been regularly updated for the last 10 years, works with a complex set of definitions of what makes for happiness, for individuals and for societies. Finland regularly tops the chart of Happiest Countries in the world, which Finns find a bit puzzling, apparently. They don't see themselves as cheerful, jolly people, but they do speak of a national characteristic that might be described as contentment. Contentment lays an axe to the roots of Greed. It allows us to see what we have and value it, rather than despising it because there are things we do not have. 
One of the values that The World Happiness Report notes as making for greater happiness is altruism – doing good and receiving goodness from others makes both parties happier. The Christian tradition has known this for a long time. Cardinal Sins have their opposing Cardinal Virtues, dispositions that we can cultivate to help us to free ourselves from enslaving habits, like Greed. 'Charity' is the Cardinal Virtue that undermines the sin of Greed. When we give to others from our own resources, of time, money, attention, care, prayer, help of any kind, we begin to loosen the deadly grip of insatiable Greed upon ourselves and our world. Greed can't live alongside Charity, or altruism; charity sees real people and situations in need, and supplies what it can from its own resources; Greed sees only more and more objects to be acquired, never able to see what it already has, never able to share or be content. 
Deadly Sins lead to behaviour that makes for misery, both for those driven by them, and for those on the receiving end of them. That is why they are called 'deadly'. They are not just a bit naughty; they are actively destructive of human flourishing, both personal and communal. There is so much in our society that positively encourages Greed, the reckless desire for More, which can never be satisfied. But there are ways of combatting this most pernicious of habits.  
One is the practice of gratitude: instead of thinking about what we haven't got, or would like to have, or what someone else has, we can think of what we have got, and think of it as gift, something to say thank you for. It's a good habit to build into every day, perhaps as we go to bed, taking just a few minutes to think about the good things that have come to us that day: a child's smile, a gleam of sunshine, a hug from a friend or partner, a delicious piece of bread; everyday things that we can take for granted, in which case they go unnoticed; or we can see that they are  gifts to be grateful for, which enlarge our spirit and our wellbeing. Gratitude is a virtuous circle: it is lovely to be on the receiving end of gratitude, as well as to practice being grateful. And gratitude often leads to another excellent practice for undermining Greed, which is charity, or altruism. If we are learning how to say thank you for what we have, we may also want to share what we now notice that we have. If we've given the gift of gratitude, and seen how it makes us and the receiver feel, we may want to extend that further and further. Worth a try?